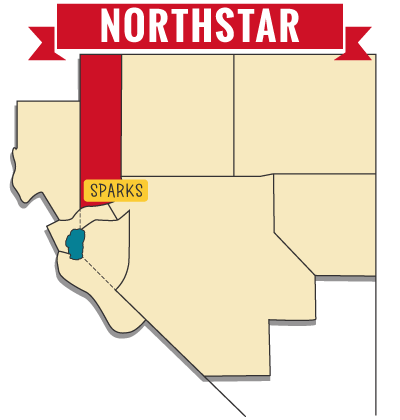 SERVING THE COMMUNITIES OF SPARKS, SPANISH SPRINGS, RENO'S NORTH VALLEYS, GERLACH, AND LOCKWOOD
The mission of the Boy Scouts of America is to prepare young people to make ethical choices over their lifetimes by instilling in them the values of the Scout Oath and Law. The Boy Scouts promotes the intangible: Building values into the lives of our youth. The Northstar District is a subdivision of the Nevada Area Council, BSA and serves the youth and adult leaders of Sparks, Spanish Springs, Reno's North Valleys, Lockwood, Gerlach/Empire, and USA Parkways. Visit our Facebook!
Notice
We have a new Name !!!
But we can't reveal it yet.
Come to the District Committee meeting Feb 11th 7:00 at Hug High School
New Times for Roundtable, Commissioners meeting and District meeting
District Awards Dinner
Friday, February 28 at Reno Elks Lodge
McKenzie Gold Rush



Klondike Derby 2020
Dates: January 31 to February 2, 2020
Where: Prosser Campground



The Prosser Campground is approximately 3 miles North of Truckee, CA on Route 89.
Look for BSA sign at campground entrance

REGISTER EARLY
Registration is $12 per Scout and Adult (Webelos-Saturday - $7) on or before January 20th.
Registration is $15 after January 21st . Registration Closes on January 29th at Midnight


Scouts and Scouters, it's time for some winter camping and competition in the snow. Join us in the annual "Klondike Derby" which is named for a region in Alaska where gold was discovered in 1896. It became a race to be the first ones there to stake a claim. Come prepared to survive the elements, race and compete in cold-weather events.

Register on-line by January 26th so that we can prepare for the right number of Scouts and leaders.
Red District Calendar Pattern:
Red District- Pah Rah OA Chapter

Mtg

Meeting: First Wednesdayof the Month @ 6:00pm
Red District Roundtable Meeting: First Tuesday of the Month @ 6:00pm
Red District

Commissioner

Meeting: Second Tuesday of the Month @ 6:00pm
Red District

Committee Meeting

: Second Tuesday of the Month @ 7:00pm
**Details and Meeting locations can be found on the District Calendar**
Upcoming Events
| | |
| --- | --- |
| | Red District Commissioners meetings will be held at Proctor Hug High... |
| | THIS TRAINING HAS BEEN CANCELED AT THIS TIME IN ACCORDANCE WITH THE CDC AND COUNCIL SAFETY COMMITTEE'S RECOMMENDATIONS FOR GROUP... |
| | THIS TRAINING HAS BEEN CANCELED AT THIS TIME IN ACCORDANCE WITH THE CDC AND COUNCIL SAFETY COMMITTEE'S RECOMMENDATIONS FOR GROUP... |
| | THIS TRAINING HAS BEEN CANCELED AT THIS TIME IN ACCORDANCE WITH THE CDC AND COUNCIL SAFETY COMMITTEE'S RECOMMENDATIONS FOR GROUP... |
| | District Committee meeting will be held at Procter Hug High... |
| | Roundtable will be held at Procter Hug High School. Online connection will be available, Contact Ray Ritch with... |
| | At the moment, meetings will be held at Procter Hug High School Save the dates : Pah Rah Chapter Meeting - February 5 - 6pm - Location:Hug High... |
| | Red District Commissioners meetings will be held at Proctor Hug High... |
| | Wilderness first aid, or "WFA", is a generic term that commonly refers to any training course that focuses on prevention, assessment, and... |
View all upcoming events