Camp Fleischmann
CF2U - Bringing Camp?to YOU!!
Scouts BSA and Venturing Scouts and Leaders are invited to come join us for some fun this summer! Since we can't travel to Camp Fleischmann, summer camp will travel to you. Register now and reserve your special camp package that will include a little bit of Camp Fleischmann and everything you will need to participate in CF2U. More details will be shared with those who are registered. Below is a preview of what is to come!
?
Registration - Passed
$80 per participant - shipping included
Shipped on Friday, June 26, 2020 via?USPS
CF2U Participant and Leader Guide
Items in Box:
CF 2020 Hat

CF Stickers

CF Playing Cards

Scout Craft Kit

Supporting Documents

Details about how to access many activities hosted online by CF Staff and Supporters

And More Surprises!
?
Merit Badges (for Scouts)*
Art

Astronomy

Basketry

Chess

Citizenship in the World

Cooking

Environmental Science

Fish and Wildlife Management

Geocaching

Indian Lore

Photography

Plant Science

Radio

Scouting Heritage

Weather
?
Available Training (for Scouts and Adult Leaders)*
Outdoor Ethics Orientation Training?(For Scouts and Adult Leaders?- fulfills requirement #5 for the Outdoor Ethics Awareness Award)

Introduction to Leadership Skills for Troops (For Scouts)

Outdoor Skills for Leaders - cooking, hammock camping, etc.

Trail to First Class for those newest Scouts who have recently started their journey through Scouts BSA
*Details about signing up for Merit Badges and Training Sessions will be sent?before the fun begins.
All participants will have the opportunity to receive a special commemorative CF2U patch following the completion of camp.
?
Schedule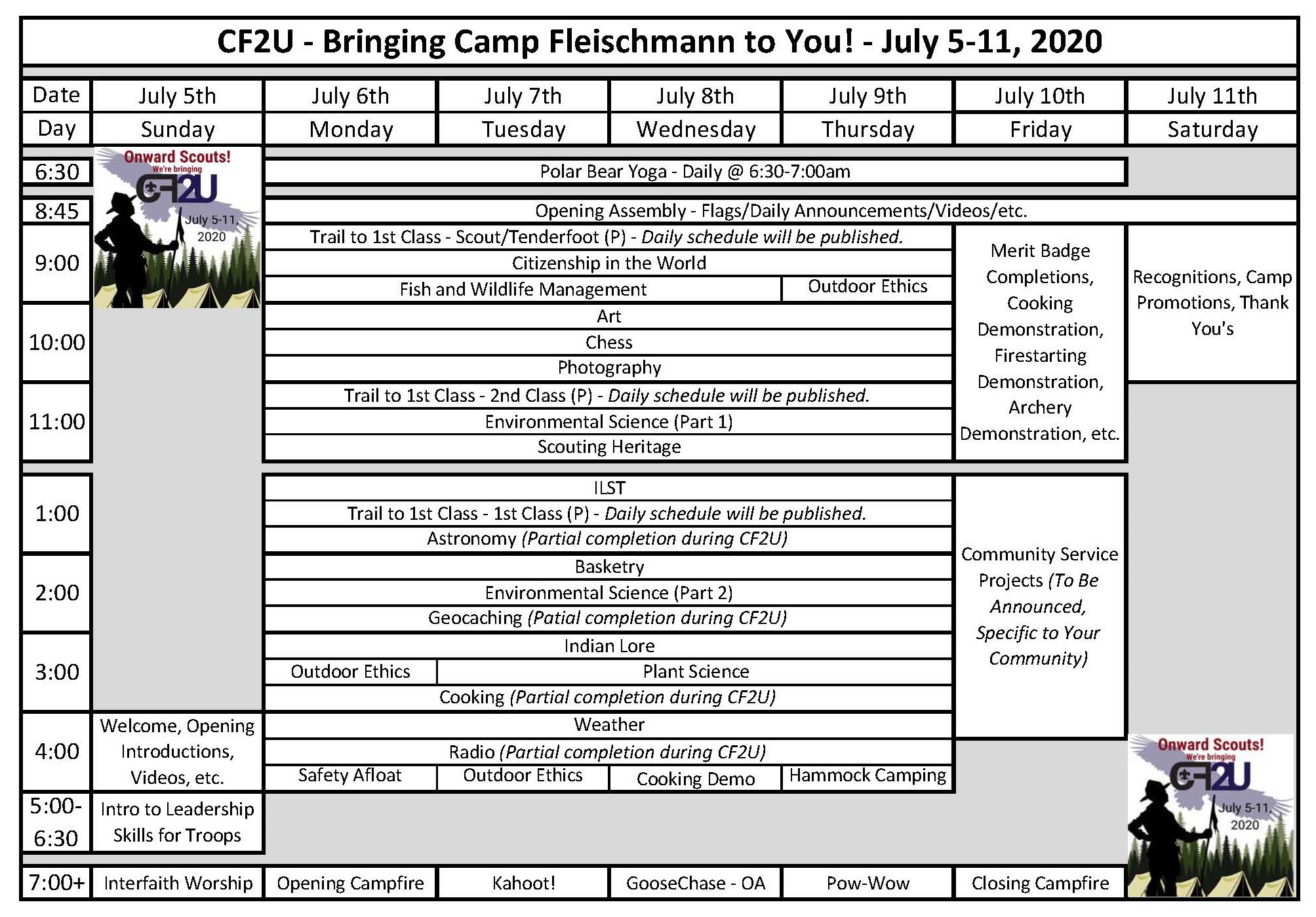 *Please note: Reliable internet service and a device to access content and streaming apps will be required and not provided. Participants will need to be able to access Zoom and Google Classroom. Some program supplies will have to be acquired by the Scouts; others will be mailed out by us.?
?
**Please Also Note: By registering for this event and/or submitting my video/videos?or photos/photographs I hereby assign and grant to the Nevada Area Council?and the Boy Scouts of America, as well as their authorized representatives, the right and permission to use and publish, including posting on any social media platform, the photographs/film/videotapes/electronic representations and/or sound recordings made of me or my child at all Scouting activities, and I hereby release the Boy Scouts of America, the local council, the activity coordinators, and all employees, volunteers, related parties, or other organizations associated with activity from any and all liability from such use and publication. I further authorize the reproduction, sale, copyright, exhibit, broadcast, electronic storage, and/or distribution of said photography/film/videotapes/electronic representations and/or sound recordings without limitation at the discretion of the BSA and I specifically waive any right to any compensation I may have for any of the foregoing.