At University of Scouting, you will find training opportunities that will directly assist your daily efforts to support your youth and their programs. Registration is open to all registered adult volunteers, interested parents, and older youth for specific courses.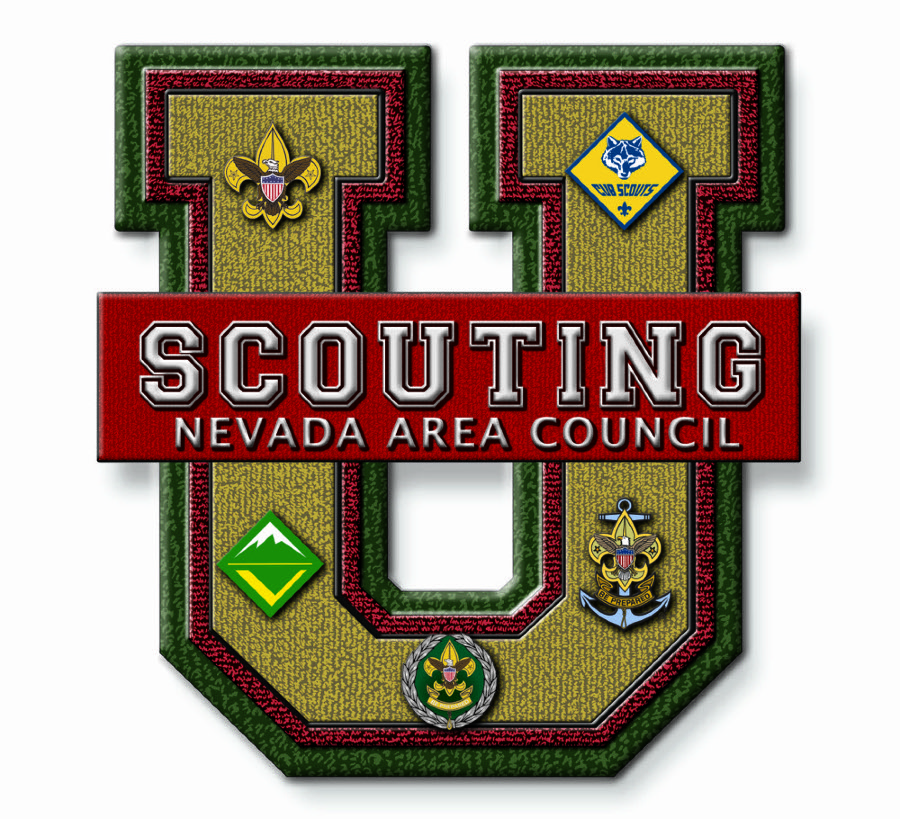 There are two major training events in Nevada Area Council each year. By hosting a University of Scouting in both the East (Elko area) and West (Reno area), the hope is that all Scouters throughout the Council will be able to attend at least one of the events.
The 2019 NAC-WEST event will take place at Bishop Manogue High School on Saturday, November 2nd, from 8:00AM to 4:00PM. There will be training opportunities that will directly assist Scouters' daily efforts to support youth and Scouting in their units. Attend for the full day, or feel free to stay for just part of it.
Full Course Catalog - Click HERE.
Instructions for Online Registrations.
Fill out a profile. This is a one-time thing for this new registration site. NOTE: This is different from your BSA login credentials (it is separate back-end web machinery).
Add yourself as a participant and go to "register" at the bottom of the window.
If you know your unit number, please fill out that information. If you do not, please put in the unit number of your district: Bristlecone: 3, Humboldt: 5, Lassen: 11, Northstar: 8, Overland: 2, Pinenut: 4, Pony Express: 6, Sierra: 1
Under Step 2, choose a category (in the middle).
The courses for that category will then appear. If you click on one, it will tell you what information will be included in that course.
Clicking on the plus ( ) at the end of the line will enroll you in that course.
You may continue to the end and pay, or wait for more information.
You may leave the site and return later to edit or complete the registration.
Please note: Registration has

NOT

been processed until online payment has taken place. If your individual unit reimburses for training costs, you can forward a copy of your receipt to your unit treasurer.
If you return to change or complete anything, sign on, and then click "Click here to edit an existing registration," it will take you back to your registration.
Add yourself as an available participant.
Then you can return to #5 or #7 and continue.
Thank you for registering.
Cost:
$15.00 per Scouter (Adult Leader)
$10.00 per Staff
Late fee:
After 10/26/2019 a fee of $5.00 will apply to all Participant and Staff Registrants.
Cancellation Policy:
REFUND POLICY Because most of the fees that are paid for camps and events are actually spent or committed prior to the actual camp or event, refunds or activity fee transfers for Council and district camps and activities will be made only under the following conditions: Request for cancellation of a reservation or activity fee transfer must meet one of the following criteria: A: For the use of Council camps, Boy Scout summer camp, Cub Scout Day Camp, or any overnight camping event, a written request must be received by Volunteer Services at the Council Service Center at least thirty (30) calendar days before the event. B: For all non-overnight events, a written request must be received by Volunteer Services at the Council Service Center at least fourteen (14) calendar days before the event. All requests for refunds must be made in writing and submitted by the person who paid for the original reservation. All refund requests received by the deadline will be processed by the Volunteer Services department, and will require approval by a member of the Council Management Staff. Volunteer Services will request this approval. In regards to Camp Fleischmann, refund requests received by the above deadlines, will be processed by Volunteer Services at the end of each session of camp. Cancellation requests received by the required deadline, as stated above, will result in a full refund minus a non-refundable, non-transferable fee of 15%. Refunds will be paid in the manner of funds received (check, CC, etc.) and mailed/ notified to the person who submitted the original reservation. The only exception to this policy is in the case of an emergency, injury, or illness. The exception request must be in writing and verified by a parent and/or guardian. The maximum available refund under this provision will be 50% of the total fee paid by the individual. The implementation of the policy was March 9, 2017. This policy supersedes all previously adopted or implied Refund Policies.
Click
HERE
to register now.