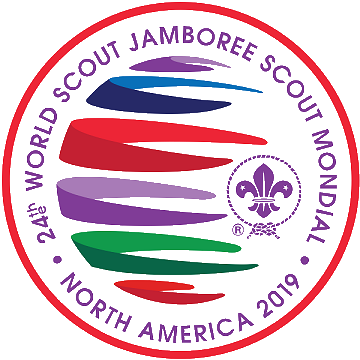 July 22 - August 2, 2019
West Virginia, USA
Official World Scout Jamboree Website
Ways to attend the 24th World Scout Jamboree
---
Participant
International Service Team
Day Visitor
Did you know?
---
Did you Know? Opportunities exist for sub-groups of the jamboree band, including percussion ensembles, chamber groups, rock-bands, and even choral groups
Did you Know? Food Houses will be a major attraction at the 24th World Scout Jamboree. Several NSOs from all over the world will gather to provide the tastes, aromas, culture, and fellowship of their homelands with participants from around the world. Look for more information to be released soon.
Did you Know? Come to the Party at World Point! During the Jamboree, join the festive atmosphere at World Point in the Summit Center. Each day will bring something new. Street performances, food, singing, and more. Along with receptions and international exhibits, World Point will be the place to share your culture with the rest of the world. Don't be left out! There will be demonstration and special performance areas for you to have fun and show other Scouts from around the world what makes your country unique.
We would love for you to send us your ideas. What things could you and your friends showcase on our stages? Please send your thoughts to Mhcircus@verizon.net. Those who contact Marc early, will get the BEST time slots on our schedule. We look forward to helping you become an international star at World Point!
Jamboree News
---
Jamboree Day Visitors
New World News – June 2018 – 24th World Scout Jambore
The Summit Bechtel Family National Scout Reserve in West Virginia will be the host for the 24th World Scout Jamboree from July 22 to August 2, 2019. The World Scout Jamboree will bring together about 45,000 Scouts and Scouters from over 165 countries to share the values, joy, adventure and fellowship of the world scouting program. The theme of the Jamboree is "Unlock a New World". This Jamboree is jointly hosted by the national scouting organizations of Scouts Canada, Asociación de Scouts de México, and the Boy Scouts of America.
Day visitor guests are welcome and will have the opportunity to visit and participate in much of the Jamboree experience. On-line ticket sales will begin in late 2018 and will be announced on the Jamboree website (https://www.2019wsj.org/attend/day-visitors/). Dates, hours, ticket prices, list of prohibited items, frequently asked questions, and other important information will be located on the day visitor web page. You should check it regularly for new information.
Your day visit adventure begins...read more here!
Seeking IST to serve in Base Camp & IST Experience Areas
By 24th WSJ Admin / June 29, 2018
Participants to the WSJ will be camped in five Base Camps across the Jamboree. At the center of each Base Camp (and each constituent Subcamp) will be a headquarters tent. This will be the "go to" location for all housing issues and general questions about daily life at the Jamboree. Each HQ will be home to a number of senior Jamboree Planning Team members, including a Camp Chief and Deputy Camp Chief, with help from a Youth Assistant, and a Chief of Staff who oversees the support personnel. However, they cannot do it alone! They are actively recruiting for support staff members, who are excited to make this Jamboree an amazing place to stay and play. Available positions include:
Duty Officers — Problem-solving experts, stationed at each headquarters tent.
Administrators — Track camp residents and issues, to ensure quick and successful resolution.
Camp Maintenance Personnel — Provide minor repairs to camp infrastructure and equipment.
Base Camp Commissioner and Subcamp Commissioner – Quality Control Officers touring and monitoring each Subcamp to proactively address any issues.
Additional support personnel include our Postal Service, Lost and Found, Safety officers, Security Team, and our "Green Team" Recycling Rangers.
While the participants are at the center of all we do, that does not mean that we should ever forget to take care of our fellow IST! The IST Experience Team is also in need of dedicated volunteers to help with on-site activities. Each of the following areas will be within the IST Base Camp Echo, run by IST members for IST members:
IST Program Staff — Support IST on their 1 or 2 days off, offering a range of activities (both on and off-site) including: Nightly IST stage programs; Dance Tent; Hang-out Tents; Cinema; Yoga and Fitness area; Sauna; and much more!
IST Training Staff — Working on 27 training topics (ranging from 'IST Expectations,' through 'Camp Life,' to 'Security & Safety' issues) this team will support online and on-site training of IST.
The IST Allocation Team — Responsible for IST on-site job allocation. The IST Support Team will handle all work-related welfare issues that the IST members may have.
The IST Support Team — Operating a Quiet Area tent, a Listening Ear Tent, and a "Staff Service Award Badge." For those who do not show up to work as scheduled, this team will also enforce an IST work-skip policy!
None of these activities run themselves! We need IST volunteers who can help us put these on. To see all available IST EXPERIENCE Positions, visit the IST Volunteers page, click on Position Descriptions and scroll down to IST Experience Office, IST Subcamp Program, IST Training, IST Allocation and IST Support and click on them to learn more about the types of roles available on these teams.
How is a World Scout Jamboree different than a National Scout Jamboree?
The WSJ is different than National Jamboree's in many ways, including:
The focus at a World Jamboree is more on meeting people from different cultures and countries than doing high-adventure activities. While, you will have plenty of opportunities to zip-line, ride mountain bikes, and take advantage of the adventure programs at the Summit, you will also have many opportunities to meet new friends and learn what Scouting and life are like in other countries.
The World Scout Jamboree has unique programs for participants to learn about different cultures, sustainability, peace and community service. These activities are intended to give participants an opportunity to learn new things and to build new friendships.
Additionally, most National Scout Organizations have both men and women participants, so about half of the WSJ participants are girls and women.
Have more questions? Check out our FAQ and Resources pages http://wsj2019.us/faq/ and https://wsj2019.us/resources/
Check Out This Scholarship Info
A World Scout Jamboree is a unique, often once in a lifetime opportunity for any Scout who attends. The USA Contingent Management Team to the 2019 World Scout Jamboree is committed to extending this opportunity to as many young people as possible, regardless of socioeconomic background or ability to pay. To that end, we are pleased to provide more information about the USA World Scout Jamboree scholarship program!
There are two types of eligibility for a WSJ scholarship. Any youth (aged 14-17) that has been approved to be a USA contingent member is eligible to apply for a scholarship. Any young adult (aged 18-26) who has been approved to join on the International Service Team (IST) or CMT may apply as well. Scholarships will cover up to 50% of the published cost to attend the 2019 World Scout Jamboree, though the CMT reserves the right to disburse any amount up to 50% of the published fee to scholarship recipients based on demonstrated need.
You can access the scholarship application on the USA World Scout Jamboree website www.wsj2019.us/ scholarships. Before you open the application, which can only be submitted once, we highly recommend that you review the scholarship application guide available on the scholarship and resource pages of the website, which will show you all of the questions that the application will ask. You will log into the scholarship application using your My.Scouting credentials.
Hurry before time runs out! The scholarship application will be open until July 31, 2018. Once you have completed the scholarship application, your council will have the opportunity to review and recommend it for consideration by your area and region. The area and region will recommend scholarship recipients and amounts to the USA Contingent Management Team, who will make final approvals and disperse funds to scholarship recipients. Act fast and get your scholarship application in today!
USA World Scout Jamboree Refund Policy
If you are not chosen to be a part of the 2019 World Jamboree Contingent, you will receive a FULL refund.
If the participant requests to cancel:

100% is refundable through December 31, 2018
$150 is non refundable from January 1, 2019 – March 31, 2019
$250 is non-refundable from April 1, 2019 – June 30, 2019
No refund will be issued for cancellations received after June 30, 2019
All requests for refunds are to be submitted in writing to uscontingent2019@scouting.org.
The entire contingent refund policy can be located on our website at https://wsj2019.us/resources.