For the most current information on camping and COVID-19 guidelines, see the Resources and Forms page.
Camp Fleischmann 2022: Dare to Explore Stay tuned for possible dates and location for camp 2022.
Due to the Dixie Fire that swept through Camp Fleischmann the end of July 2021, dates and fees for 2022 Scout camp are not available at this time. We are working to find an alternative location for the 2022 summer camp program, and will post the information as soon as it is available.
To help with clean up and rebuilding Camp Fleischmann or to donate, please follow the link, Nevadabsa.org/RebuildCF
We're sending you on an American Expedition in uncharted territory to discover new skills, strengths, and friendships. Will you dare to explore rocky cliffs, cool waters, and wild forests? Will you dare to do what you've never done before?
The Merit Badge registration program will open up on May 15th. Use the link to your Troop account that can be found on your Doubleknot receipt, down below the cancellation policy--"To modify this registration or make additional payments." Your Troop account must be paid in full in order for the program to open up for you. I will be in the office to help with any questions. Thank you for your patience. Linda 775-787-1111 ext 212
NEW Camp Features & Activities
Fly down a massive floating inflatable water slide!

Sleep in a custom tipi

Rappel down a jagged cliff in a new and exclusive excursion

New logo! Did you notice? We've upgraded our logo to symbolize beautiful Mt. Lassen while still keeping the "C" and "F" in the icon. Can you see both letters?
What sets Camp Fleischmann apart?
Home to t

he tallest outdoor Sco

ut camp rock climbing walls
Action-packed act

ivities: s

hooting, archery, kayaking, paddleboarding, and more

Delicious meals

Picturesque waterfront location

Nestled on the edge of Lassen Volcanic National Park in Northern California

More than 40 Merit Badges available

Authentic Native American Pow Wow and Mountain Man Rendezvous
You will leave Camp Fleischmann braver, stronger, and ready to take on the world.
PRICING
We will post as soon as information is available.
HOW TO REGISTER
Complete these steps, and your Troop will be ready for adventure for Summer 2022.
1. Choose the week you want to attend camp.
2. Reserve your campsite.
3. Pay at checkout.
4. Print out and complete necessary forms (including Part A/B/C of Annual Health & Medical Record) for Scouts and Adults attending.
5. Learn all About Camp to make your week a success.
6. Schedule Merit Badge sessions (Signup available May 15, 2022).
We're accepting Camp Fleischmann 2022 Staff Applications! Apply here.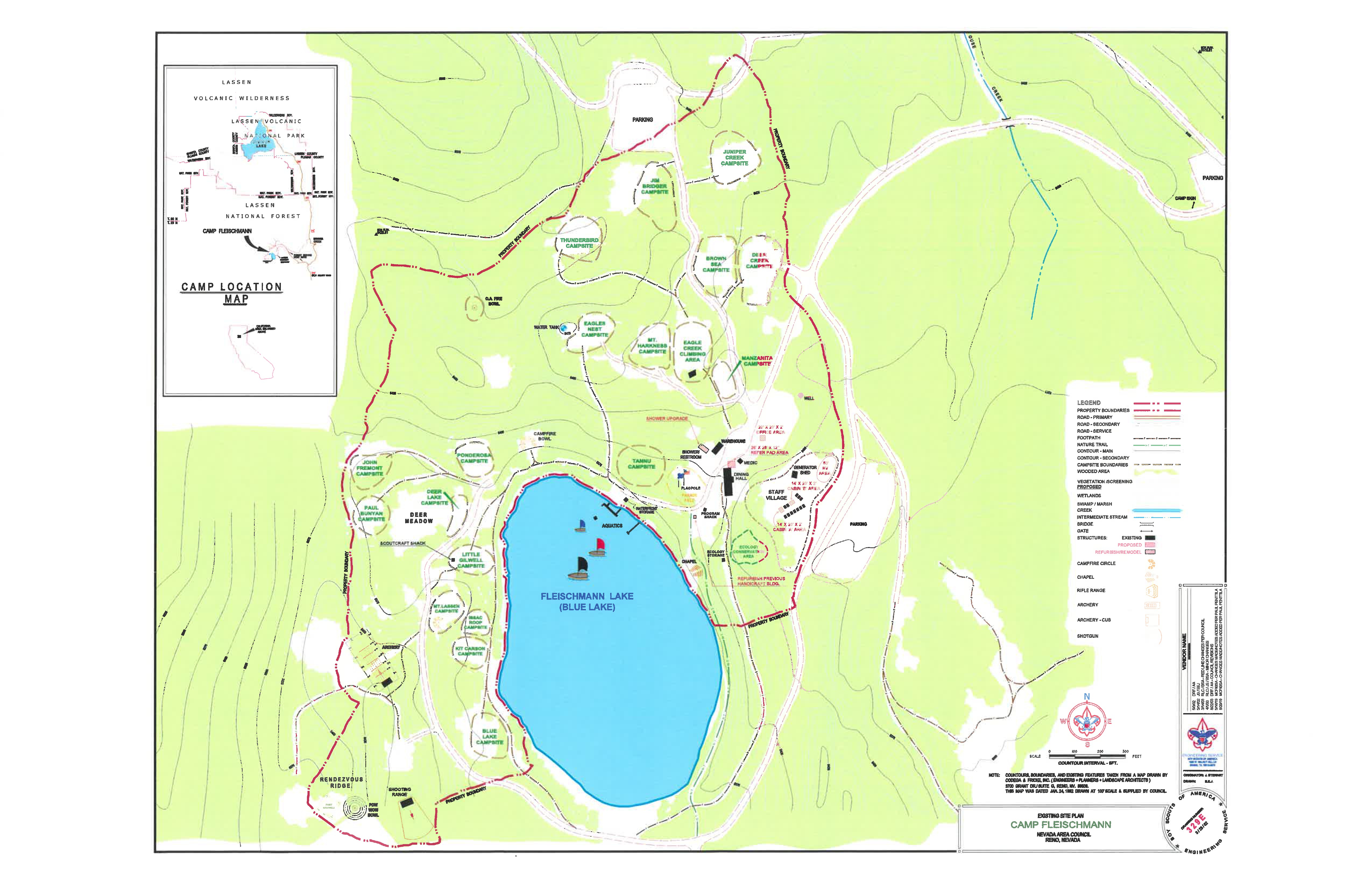 Here's a taste of your week at Camp Fleischmann!
---
For help or questions contact Linda at 775-787-1111 ext 212 or CF@nevadabsa.org