The Risk Management Committee of Nevada Area Council is appointed by the Board of Directors to assist the Board in its oversight of the Council's risk management strategies, policies, and practices that identify, assess, monitor and manage the Council's risks.
The current committee members are: Terry Abts, Chairman; Dan Deakin, Council Professional; Paul Penttila, Secretary; Dr. Rich King; Marshall Smith; Joe Mowery; Henry Hicks and Lorena Valencia.
---
COVID-19 Update for 1/19/2021
Dear Scouters,
After careful consideration and listening to Governor Steve Sisolak and his request to continue to help limit the spread of COVID-19, we share that units are not allowed to meet together indoors at this time. Meetings that are typically held indoors can use one of the many online platforms.
We do recognize that the health of our youth and the adults that serve them is also important and that many are concerned about the mental health impact that COVID-19 is having. We do understand that if you follow the state, county, and local guidelines along with our COVID-19 training and requirements that you can work on having a safe environment. If you feel you can safely abide by these rules for an outside activity for our youth then this is an option you can consider. Overnight camping is still not allowed at this time.
Please understand until further notice you will need to ensure you have your unit's Key 3 (Charter Representative, Unit Leader, and Committee Chair) complete the COVID-19 Nevada Area Council Training. You will also be required to have completed and submitted the Key 3 Compliance Agreement form to rm@nevadabsa.org. The unit is then also required to have on file a Personal Consent Form for each person that may attend anything related to Scouting. These forms and the training can be found at www.nevadabsa.org/covid.
In regards to any face to face meeting or activity please make sure you continue to follow all federal, state, and local policies. Wearing a mask, social distancing, and frequent hand washing will need to be practiced and continually reviewed. You can review Nevada guidelines at www.nvhealthresponse.nv.gov and for California guidelines at www.covid19.ca.gov.
These are trying times. We know and recognize the power Scouting has to help our communities. Let us lead by example. Let us help our front line workers. Let us remember the Scout Oath and Law.
Thank you for all you do and for all of your strength, persistence, and patience.
_______________________________________________________________________________________
National Boy Scouts of America Statement on COVID-19
---
Resources
Safety Moments Visit this website to find safety moments you can share with your unit at the beginning of your meetings as general reminders or before a relevant activity.
Guide to Safe Scouting All participants in official Scouting activities should become familiar with the Guide to Safe Scouting, applicable program literature or manuals, and be aware of state or local government regulations that supersede Boy Scouts of America practices, policies, and guidelines.
Health and Safety The BSA's Commitment to Safety page. Find everything you need for Safety here.
Remember Safety Pause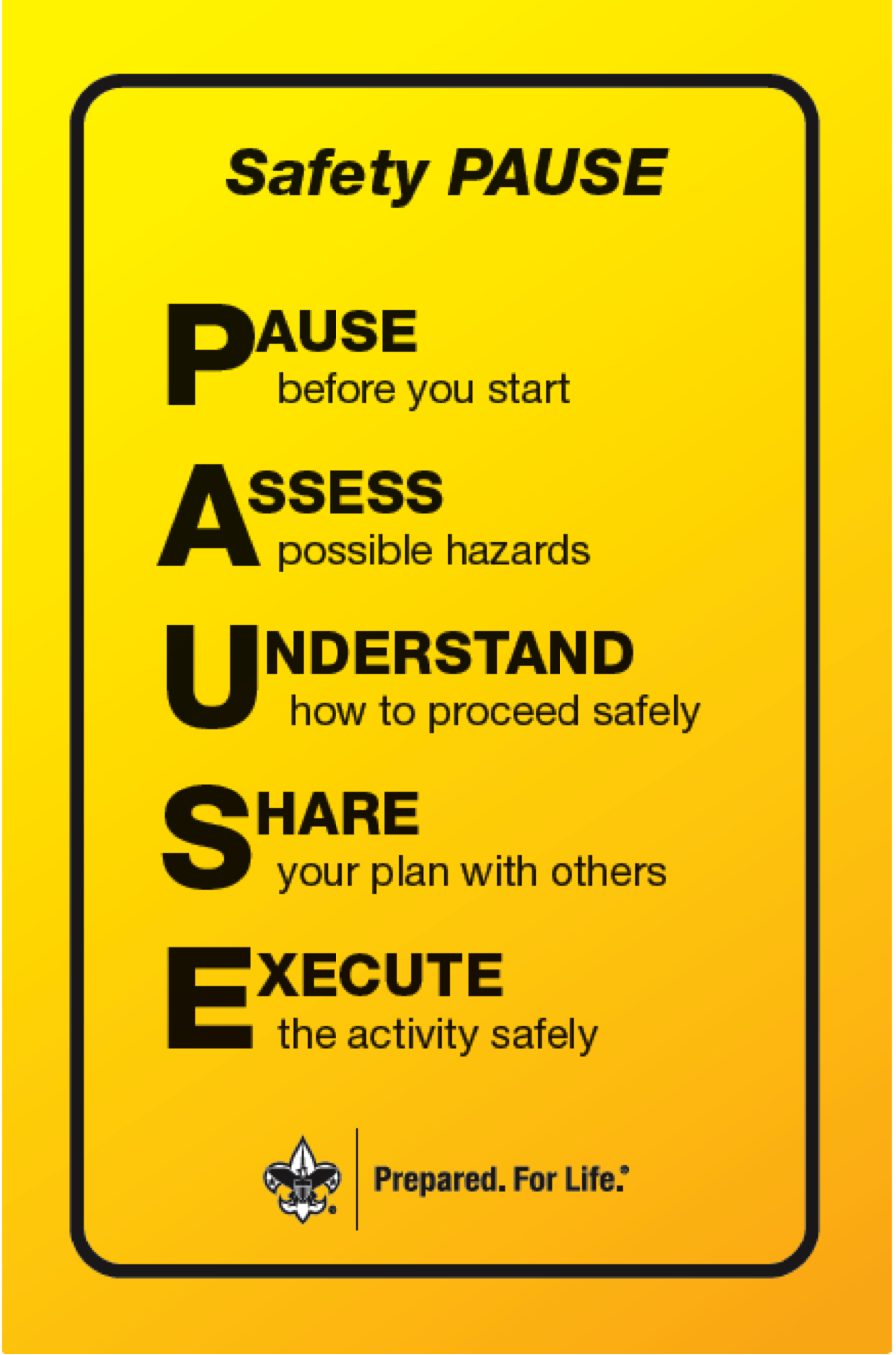 Being Safe During COVID19
John Hopkins COVID-19 COVID-19 Dashboard by the Center for Systems Science and Engineering (CSSE) at Johns Hopkins University (JHU). T website shows up-to-date statistics of the Pandemic, lets you see the COVID cases around the world, and you can scroll down to your county.
Risk Management Committee Meeting Minutes