Nevada Area Council - Wood Badge
Closed group · 3 members
To develop skilled leaders who can strengthen all Scouting units in Nevada Area Council in achieving the mission of the Boy Scouts of America, this si...
November 14, 2020
What is the University of Scouting? It is a fun one-day training event for adults held annually, usually once in the East (Elko) and once in the West (Reno). This year's University of Scouting offers wonderful opportunities to form connections with fellow leaders in a virtual setting that will directly assist leaders' daily efforts to support youth and their programs. Instead of splitting into multiple sessions for each program area, this year's event will keep leaders together based on their program areas to allow registrants to get to know one another. Discussion time will be built into all breakout sessions with plenty of time for questions and answers. Registration is open to ALL ADULT VOLUNTEERS.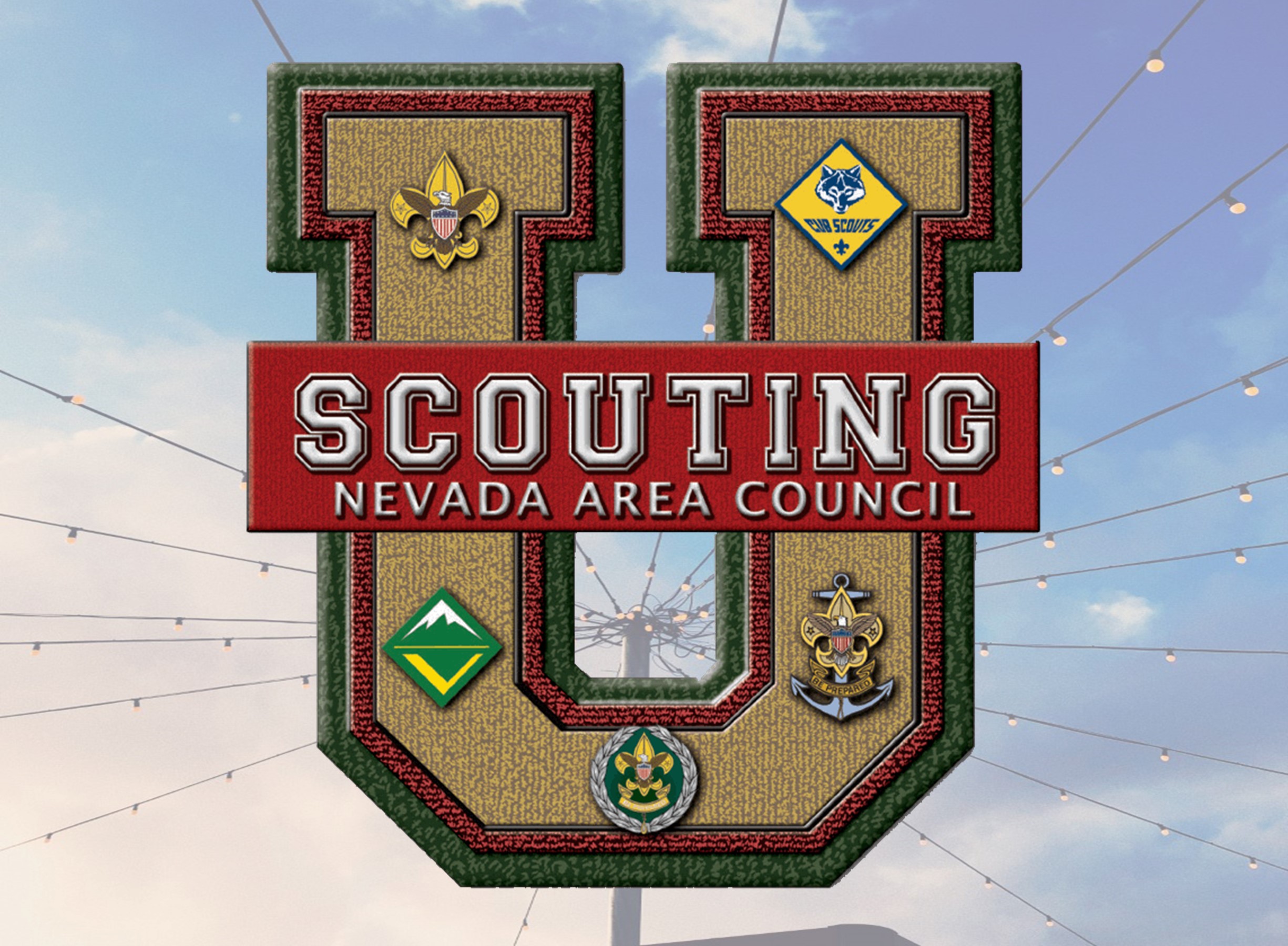 | | |
| --- | --- |
| 8:00-8:55 | Opening Session for All – Welcome, Flag Ceremony, Nevada Area Council Organizational Notes, Camp Promotions, Training Promotions, COVID-19 Updates/Policies, Using the Online Training Center, Adult Leader Recognitions, Leave No Trace, Singing! |
| 9:00-11:45 (Select one session for the morning w/many topics covered during each) | Cub Scout College – Role of the Council & Resources from the Council for Den Leaders & Packs, Aligning Program Level Activities, Hiking with Cub Scouts, Geocaching, Fundraising other than Popcorn & Camp Cards, Cub Games, Cub Songs |
| | Scouts BSA College – Dealing with Problem Scouts, Dealing with Problem Adults, Local Camping, Local Hiking Trails, Local Fishing |
| | Advancement Academy – Advancement Mechanics, Rank Advancement, Merit Badges, Advancement Culture, Planning, Journey to Excellence, Scouting for All, Overcoming Obstacles |
| | Commissioner College – BCS102: Supporting Timely Charter Renewal, BCS-109: The Essential Element (A Servant's Heart), MCS-307: Commissioner Service and Newly Formed Units |
| 11:45-12:40 | Lunch and Informational Programming – Please enjoy lunchtime programming broadcast via Zoom. |
| 12:45-2:45 (Select one session for the afternoon w/many topics covered during each) | Cub Scout College – Pack Meeting Plans & Ideas, Cub Scout Recruitment, Calming the Chaos/Tips for Meetings or Dealing with Troubled Youth, Flag Etiquette |
| | Webelos College – What's Different about Webelos Dens, How to Prepare Webelos for Scouts BSA, Patrol Method, Scout Skills, Gear, Getting to Know a Troop/Attending a Troop Meeting |
| | Scoutbook for Cubs – Set-up/Initial Entry of Scouts and Dens, Syncing Advancement, Adding Scouts/Adults, Adult Membership/Connections, Unit Pages, Den Pages, Scout Pages, Advancement, Inactive Youth, Reports, Adult Training, Logs, Help |
| | Scouts BSA College – Popcorn Sales for Troops, How to Give Back to the Community, Promoting Scouting with Other Community Organizations |
| | Scouts BSA – Bushcraft – Utilization of Primitive Tools & Skills/Period Tools & Skills/Modern Tools & Skills to Extend a Stay in the Wilderness Indefinitely, 10 Types of Equipment to Pack for Every Camping Trip, Discussion of Literature to Read to Further Bushcraft Education & Skills |
| | Commissioner College – MCS-350: Unit and Round Table Commissioners Working Together, DCS-514: Building Meaningful Relationships |
| 2:50-3:15 | Closing Session for All – Uniforming, Staying Active in Virtual Settings, Recognition of Silver Arrow Degrees, Singing! |
Register HERE.