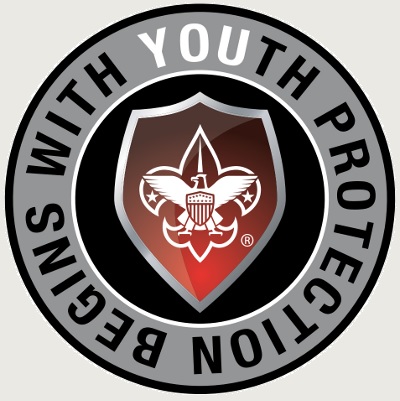 BSA Youth Protection Mission Statement
True youth protection can be achieved only through the focused commitment of everyone in Scouting. It is the mission of Youth Protection volunteers and professionals to work within the Boy Scouts of America to maintain a culture of Youth Protection awareness and safety at the national, regional, area, council, district, and unit levels.
Required Training
Youth Protection training is required for all BSA registered volunteers.
Youth Protection training must be taken every two years. If a volunteer's Youth Protection training record is not current at the time of recharter, the volunteer will not be reregistered.
CA Residents and CA Scout Units must also meet AB506 standards. Please see www.CAScouting.org
How to complete your Youth Protection Training
To take Youth Protection training go to My.Scouting.org
and create an account. You'll receive an email notification with your account information, including a member ID/reference number.
From the My.Scouting.org
portal, click Menu then My Dashboard from the menu list. The My Training page displays to take Youth Protection training. Upon completion, you may print a training certificate to submit with a volunteer application. Your training will automatically be updated in our system and associated with the member ID/reference number issued when you created the account.
Youth Protection Reporting Procedures
If you have reason to believe any of the BSA's Youth Protection policies have been violated, you must notify your local council Scout Executive so he may take appropriate action for the safety of our Scouts. Access the procedures for Youth Protection reporting here.
For events or allegations of abuse, violations of BSA guidelines or policies, or inappropriate behavior by a Scout/Scout leader/parent/other, use the Youth Protection/Membership Incident Information Form. This form is confidential and should be sent directly to the Scout Executive, Paul Penttila at Paul.Penttila@scouting.org.
Scouts First Hotline
As part of the BSA's "Scouts First" approach to the protection and safety of youth, the BSA has established a dedicated 24-hour helpline at 844-SCOUTS FIRST (844-726-8871) to receive reports of any known or suspected abuse or significant violations of youth protection policies that might put a youth at risk.
The call is answered by a live person - day or night by a direct National employee from the National Incident Reporting office. All information is kept confidential by National who then will inform the local council Scout Executive.
This is the first stage of converting the online Risk Counsel Incident reporting to the new Risk Connect due for roll-out in October. Risk Connect will allow individuals and councils to complete incident reporting directly for all incidents, near-misses, etc.

Reporting Abuse or Youth Protection Violations: Accurate information is critical to an appropriate response; however, a lack of specific information is not a reason to delay a report of known or suspected abuse or significant youth protection policy violations. At a minimum, every effort should be made to have the following information available when reporting to the Scouts First Helpline:

The name, age, council, and unit of the alleged victim(s)
The name and phone number of the victim's parent(s)
The name, age, council, and unit of any other known or suspected victim(s) and their parent's contact information
The name, position, council, and unit of the alleged perpetrator(s)
The name and phone number of the law enforcement or protective service agency to which the incident was reported
The name, unit, and council of any known witnesses
The name and phone number of the reporter
Details of the incident: who, what, where, and when
The reporter may also be asked to submit the information on a Youth Protection/Membership Incident Information Form (paper or online)
Incident Report Form - Health & Safety
The incident report form is to be used with events or allegations of injury, illness, or property damage, including employment and issues with directors and officers. Access the form here and more information here.
Guide to Safe Scouting
The purpose of the Guide to Safe Scouting is to prepare adult leaders to conduct Scouting activities in a safe and prudent manner. View the online Guide to Safe Scouting here and access the PDF version here.
Child Abuse Hotline Contact Information
Access the Nevada Area Council's child abuse hotline contact information here.
Scouting's Barriers to Abuse
The BSA has adopted policies for the safety and well-being of its members. These policies primarily protect youth members; however, they also serve to protect adult leaders. Parents and youth using these safeguards outside the Scouting program further increase the safety of their youth. Scout leaders in positions of youth leadership and supervision outside the Scouting program will find these policies help protect youth in those situations as well. View the barriers to abuse policies here.
Resources
Nevada's Child Welfare and Child Protective Services
California Department of Social Services - Report Child Abuse